Good Afternoon Folks,
I know.....long time.....no see. I have been extremely busy getting my new venture up & running. The bad news is I have a long way to go. The good news is I am slowing getting my display fine-tuned to work the way I want it to. It has definitely been a hit & miss job. Just to give you an idea, the first display I built was great.....with one exception.....When I got it set up (on the table) at the first show, I discovered I couldn't see over it. I came home & took the whole thing apart & started over. The new display works pretty well: I just need to tweak the layout a bit.
A word to the wise.....which I was not.....if your target market is young/middle aged adults & office workers, the 1st show you book should not.....repeat NOT be an adult retirement community. Live & Learn!
Okay, on to the important things. Since I am no longer doing graphics for Digital Scrapbooking, this blog will be used to post new products & designs as they become available & to post upcoming shows. So let's start with the Show Schedule. Later tonight, I will be adding a gadget to the left sidebar that will list all current shows I am registered for. I only have 3 more shows before Christmas with a nice break until early spring.
The next thing I would like to do is accept suggestions for signs that you would like to see. To suggest a saying or design just email me using the email button in the left sidebar. If I create a sign with your suggestion you will get the first one Free, so be sure to include your address or phone # in the email so I can contact you. Please keep in mind that I sometimes design signs that are a little risque or suggestive, but I will not do signs that are blatantly adult &/or pornographic in nature or that show prejudice in any form.....so Please don't ask me to.
Now for Mama's Designz newest product:
Desk Quotez by Mama's Designz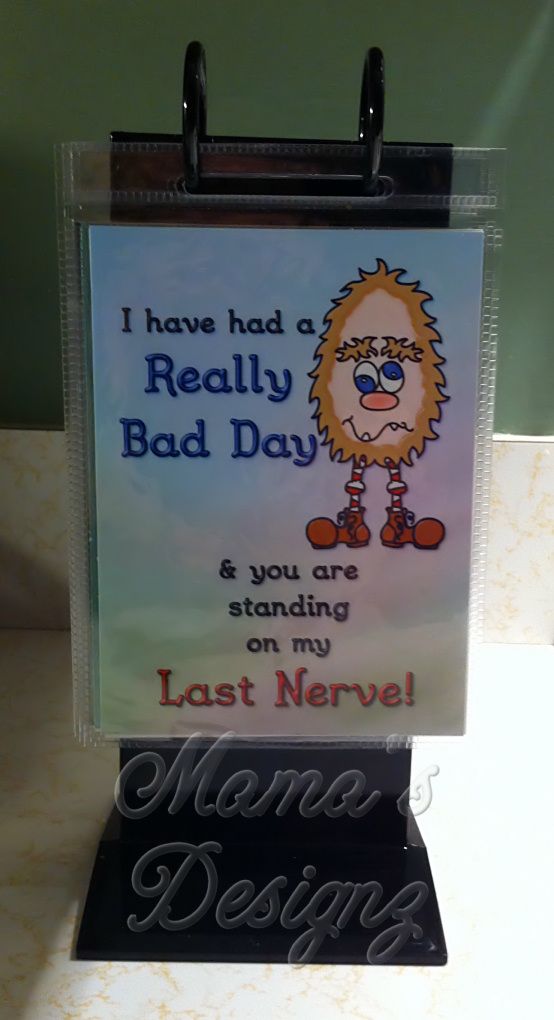 This is a desktop sign holder. Just flip the signs to let your co-workers know how you are feeling today. The starter set comes with 10 signs of your choice & can be added to as new signs become available. There are currently 74 Desk Quote signs to choose from with many more coming in the next week or two. I will also be adding the slideshow to the sidebar later tonight so you can see what's available. Eventually, I hope to be adding a shopping cart so you can order right from this blog.
Thanks for listening to me ramble,