All Aboard,
Sorry I am a little late getting this posted but we had severe thunderstorms last night so I had to shut down for the night. What is with this weather lately? So, are you ready for this awesome train from
Digi Blog Train List
? This month we are doing Cancer Awareness. I think we all know someone who has fought with this terrible disease.
My contribution is almost 200 mg so I've divided it into 4 zip files. Once you download all 4 files just right click the file with the .zip extension & choose extract here & all 4 files will extract. Now here's a preview of my part.
Downloads have been manually re-zipped in 4 parts & links corrected. Hopefully this will solve the problem some are having with the split zip. You can now extract each zip individually.
Here's a list of all participating designers. Please be sure to thank each of them for their generous contribution. If you get lost you can find the complete list
here
.
Now don't go away yet because I have some exciting news for you.
Southern Comfort Scraps will be opening a new Commercial Use Only Shop on August 1st. Everything will be CU & $5.00 & under. The shop is still under construction & I don't have my store uploaded yet, so be sure to check back on August 1st.
Don't forget that my Finally Summer sale will be ending soon. You get 40% off everything in my all of my stores listed below.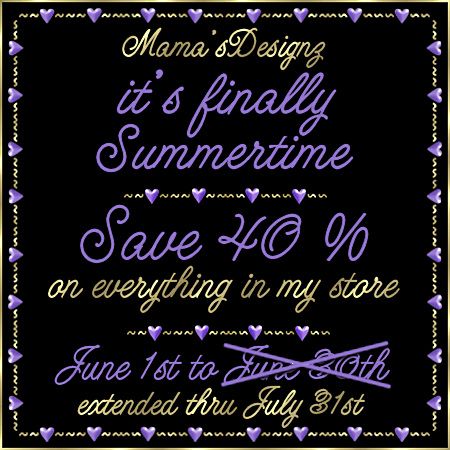 Now stay with me just a bit longer Folks. I'm not done yet.
I am the Spotlight Designer for the month of July at Southern Comfort Scraps so I have a special gift in addition to the 40% Finally Summer Sale. Anyone who purchases $5 or more from Mama's Designz will get this lovely set of 6 Quick Pages free. This set is exclusive to this promotion & will be retired on Aug 1st so be sure to check it out.