Good Morning Scrappers,
Well, the bunnies & squirrels are finished with their antics this morning & I am done with my coffee so i guess I can get to work. I didn't see the chipmunks out back this morning. That means if I walk into the living room I will see the cat watching out the window with his tail swishing back & forth. He loves to watch the chipmunks.
Okay--enough now--on with the my newest release.
Ruffled Petals
I had so much fun designing these pretty flowers. They originally started out as the skirt to my Ruffled Angels. I am always amazed at what can happen when you are 'just playing'. If this is any example, I need to go play some more with my Sinedots Filter. Who knew you make an Angels skirt look so pretty & then make a flower with it. You gotta' love designing & PSP.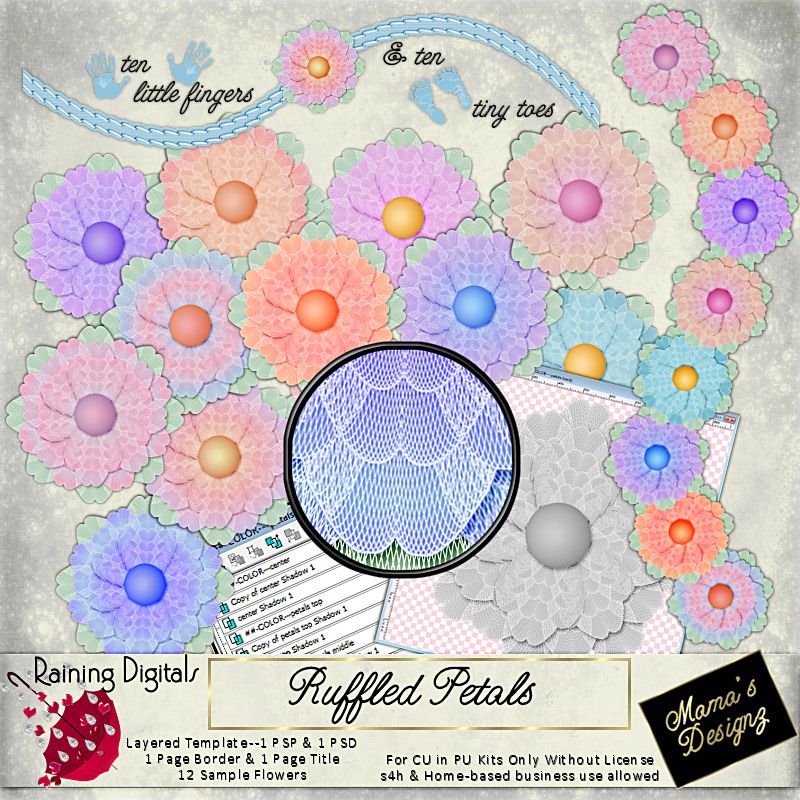 A little inspiration
---Extra, Extra--Read All About It---
If you would like to be the first to hear about my new releases & get all the news straight from MamaWolf, sign up for my newsletter. I promise not to be a pain & bombard you with daily emails. You will get one message a week--on Fridays--with an update for the week plus a sneak peek at the coming week. You can use the signup form in the left hand panel
<====
or you can also find the form on my Facebook Fan Page along with a Fan Exclusive.
Everyone who signs up for the newsletter will get the Ruffled Petals Quick Page along with the font I used & instructions for the effects to apply to match baby's name to the rest of the text.
Enjoy Your Scrappin'