Good Afternoon Folks,
I have another tutorial for you today. I make my own desktop wallpapers & give the away free to family & friends. I have had a number of Folks ask me how I get my taskbar to match my desktop wallpaper. I can't tell you about other operating systems but I can show you how to do it in Windows 7.
Personalize Your Desktop In Windows 7
Here is my current desktop.
Now right click anywhere on your desktop & choose Personalize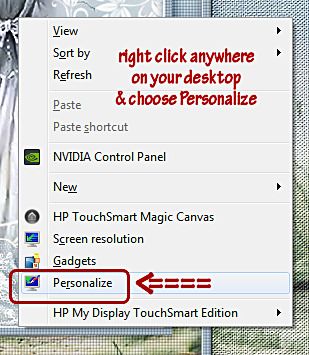 When the window opens choose Desktop Background
(at the bottom of the window)

---Note---Do not maximize your windows.
You want to be able to see the changes to your desktop as they are happening.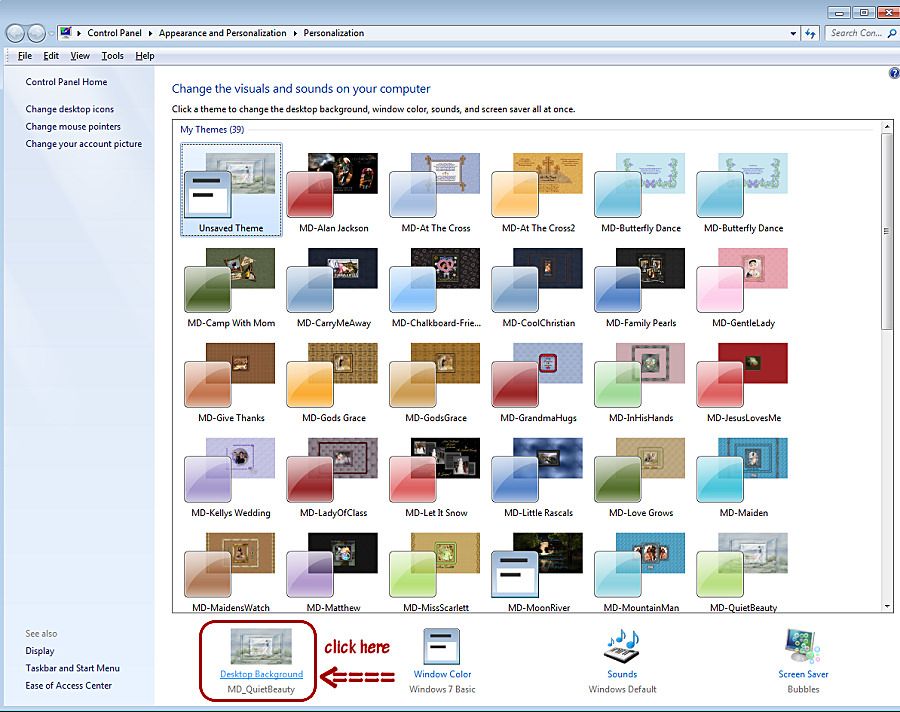 Now browse to the folder with the image you want to use.
Choose your image & click Save Changes.
Now you are back to the first window.
As you can see your desktop has changed.
Now click on Window Color to fix the taskbar.
Okay, this is the fun window.
First you need to open the Color Mixer.
Now this is where we get to play.
Select the basic color you want to start with.
You can enable transparency if you want. That will be optional.
Try it & if you don't like the result you can uncheck it.
Now just play with the sliders until you get a color you are happy with.
Don't forget to save changes.
Okay---on to the sound.
I don't usually do anything with this but you do have the option to change it.
Last but not least---the Screensaver


Select the screensaver you prefer from the drop down list.
Click OK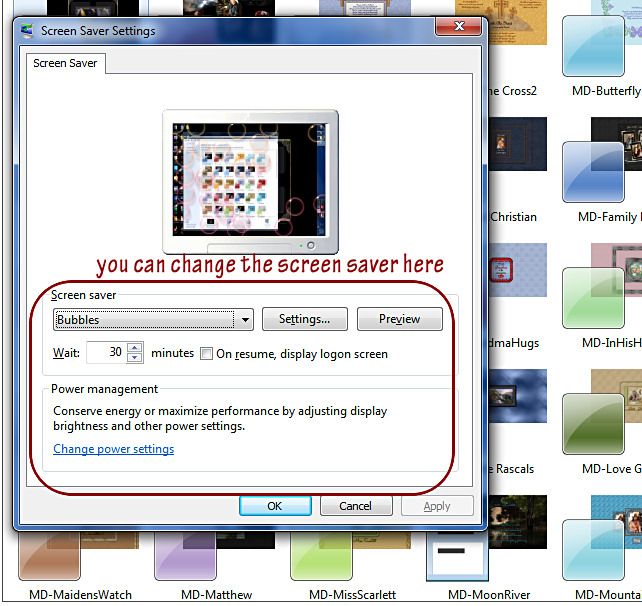 You are all done with your changes.
Now I would suggest you save the theme you just created.
If you change your desktop often like I do,
you need to save every new theme you create.
Give your new theme a name that describes it & then click save
Now when you want to go back to a previous theme you saved,
all you need to do is click on the one you want & Voila!
I make all my own desktop wallpapers so, as you can see,
I have a lot of themes saved & I like to change my desktop often
but I only go through this routine when I make a new desktop.
I hope you enjoyed this tutorial.
Feel free to email me if you are having a problem with it.